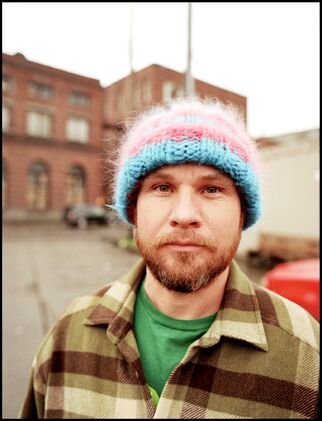 Jeffrey Allen Ament, better known as Jeff Ament, is the bassist and one of the founding members of Pearl Jam. Alongside Stone Gossard, he is known as being part of bands that made big contributions to the cultural and musical movement that occurred in Seattle in the late 80's to mid 90's.
Biography
[
]
Ament was born in Montana, and when moved to Seattle in 1983 provided a major role in bands like Deranged Diction, Green River, Mother Love Bone and finally Pearl Jam. His friendship with Stone would not only endure but lead both in a successful career and fulfilling a longtime dream of not only being in a band, but also keeping this group together and recording.
Early Life
[
]
Jeff Ament was born on Havre, a city located on Hill County, Montana. Raised on a family considered by himself as conservative, Ament always liked sports like skateboarding and basketball, and of course developed the ability of playing bass guitar. He has always been an art lover, studying the subject until the University of Montana ended the graphic design program.
Moving to Seattle
[
]
In 1983, Jeff moved to Seattle with his band Deranged Diction. The city was living an early experience of garage bands who kept playing and constantly forming bands, and reached Ament through Mark Arm and Steve Turner, who invited him to join Green River with them, Alex Vincent and Stone Gossard. Bruce Fairweather replaced Turner due disputes between this one with Stone and Jeff.
On the production of Rehab Doll, the band's last album that was released on June 1988, stylistic differences within the band members led Green River to disband, once again putting Jeff and Stone on one side together but on the other, this time, was Mark Arm. Arm wanted the band to go independent, while the other two wanted to build a career and sign with a major label.
Mother Love Bone
[
]
Pearl Jam
[
]
Discography
[
]
With Pearl Jam
[
]