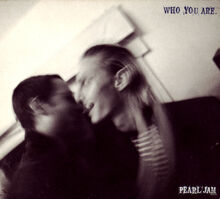 Who You Are is a 1996 song by Pearl Jam. It's lyrics were written by Eddie Vedder, and the music was written by Stone Gossard and Jack Irons. It appeared on their 1996 album No Code.
It is well known that No Code dealt with existential subjects along its soundtrack, specially for the reason of the band's self imposed exile and it's struggle with modern culture. For this song, it is possible to identify not only the question often connected to the "meaning of life", but also the call of responsabilities.
Most of the song is very subjective, considering the metaphors of this poem. By the way, it is possible to interpret that the protagonist calls the listener to add something to the world, to send something, not to condescend. In a metaphoric description of life and its happenstances, the protagonist of the lyrics remembers that everything plays a part, and asks the listener what is his part, his responsability. In the end, asks who the listener is, but after the whole song, in some kind of message for this person think with the own mind what's this identity.
Music & Lyrics
Edit
Come to send, not condescend
Transcendental consequences, to transcend
Where we are, who are we?, who we are
Trampled moss, on your soul
Changes all, your apart
Seen it all, not at all
Can't defend the command
Take me for a ride before we leave
Circumstance, clapping hands
A-driving winds, happenstance
Off the track, in the mud
That's the moss in the aforementioned verse
miraculous, and a little
Just a little time, before we leave
Stoplight, plays its part
So I would say, you've got a part
Whats your part?
Who you are, you are who, who you are
Community content is available under
CC-BY-SA
unless otherwise noted.